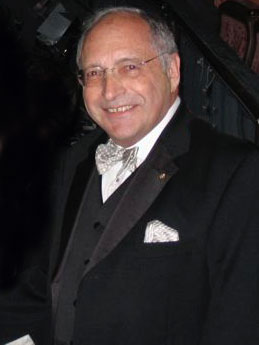 "Dick", as he prefers to be called, has enjoyed in excess of 50 years as an attorney, having earned his undergraduate degree from Penn State University, where he served as President of the Student Body in 1960-1961, President of the Pennsylvania Association of Student Governments, fraternity president and a member of several honoraries, including Delphi, Androcles, Skull and Bones, Omicron Delta Kappa, and Lion's Paw. In addition, he served as Vice President and then President of the Freshman Class as well as Drum Major of the Air Force R.O.T.C. Band.

He was graduated from University of Pennsylvania Law School (Penn Law) in 1964 where he was awarded The Publishers' Cooperative Prize for excellence in fiduciary administration. Four months after graduating, Attorney Haber established his own law firm specializing in business matters, estate planning, and real estate law. Early in his career, he served as Chief Public Defender in Northampton County and also Chairman of the County Cancer Crusade. Dick was elected President of the Pennsylvania Association of Borough Solicitors Association for five consecutive terms.

As an outgrowth of his hobby growing orchids in his greenhouses, the American Orchid Society elected Dick as an accredited orchid judge in 1990. Each year thereafter, Mr. Haber was invited to judge the world renowned Philadelphia Flower Show, as well as many other national and international venues. Recently, he was elevated to Senior Orchid Judge status.

Pursuing his interest in music, Richard Haber began formal musical training at The Juilliard School in Manhattan at age 65. Mr. Haber has maintained consistent honor status for four and a half years. Click here for transcript. He is enrolled in the orchestral conducting program under the supervision of Maestro Vincent La Selva, internationally acclaimed conductor and artistic director of The New York Grand Opera, and innovator of the world-renowned "Opera in the Park" series in Central Park, presenting opera for the masses since 1975.

Mr. Haber recently capped his musical career by conducting the "play out'" for both Mary Poppins and Phantom of the Opera ON BROADWAY. This conducting opportunity came at the invitation of Grammy Award Winning Record Producer for Sony Masterworks, David Lai, the principal conductor of Phantom. Dick received "rave" reviews from the audience, cast, and orchestra. On the occasion of his conducting "gig" at Mary Poppins, Gavin Lee (Burt) stopped the show to introduce Dick "as an inspiration to all of us who dream of starting a second career later in life."

Dick composed a chorale anthem titled "Peace to the Children" which was part of the Christmas program performed at the White House.

The conductors of the Liberty High School's internationally famous Grenadier Band have also honored Dick by inviting him to conduct his own composition "America the Melting Pot", selections from Verdi's opera, Aida, "Haydn's Surprise Symphony #94", selections from Bizet's opera Carmen, and Leroy Anderson's "Serenada". During one of his guest conducting appearances, Dick told the audience, "I am very moved and inspired by opera, owing to the influence of Maestro La Selva, a world authority on Verdi, and I could not be more grateful for the opportunity to conduct such a group of talented student musicians. It has helped me regain my youth." , In March, 2012, Mr. Haber picked up his baton to conduct the Liberty High School Band in Richard Roger's "Guadalcanal March" from Victory at Sea, to honor his father-in-law, a survivor of Pearl Harbor.

In 2010, Maestro La Selva granted Mr. Haber leave from Juilliard, in order to revive his ailing law practice, which had suffered during his part time absence. His former firm having disbanded, Mr. Haber took up the private solo general practice of law. Click here for article.

PLEASE SEE THE ANNOUNCEMENT AT THE TOP OF THIS ARTICLE.

Dick is married to Rosemary, a musical success in her own right. They have two children, Spencer who owns his own hedge fund in Stamford, Connecticut and Jennifer, a practicing lawyer who serves people in need in the Annapolis, Maryland area. She also is the adoption coordinator for the Maryland Animal Sanctuary and Rescue Association. The Habers have two grandchildren, Haber and Lauren.